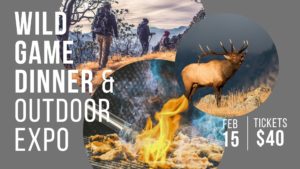 If you have any questions please call 989.832.2991 or email wildgamedinner@cbcmidland.org
2020 Seminars
Q & A with a Conservation Officer
Join us for an informational presentation with our Conservation Officers. They will be here to answer your questions on fish and game. This will be very informative.
Talking Turkey with Tom We will discuss tactics, calling with a box call and slate call. We will talk about decoy placement, locating turkeys and what would Tom have done in a situation during your hunt. Very open dialogue and just a fun seminar with some great hunting tactics that you can apply during your spring turkey hunt.
Presented by Tom with Tom's Custom Turkey Calls
Promoting, Encouraging and Educating Women and Children in the Outdoors With the core philosophy of helping to get women and children into the outdoors, protecting the freedom to hunt and dedication to wildlife conservation. We organize events that allow women and children of all ages and experience levels who would like to learn about and experience some of our time honored outdoor traditions such as hunting, fishing and trapping, but they may not know how to go about doing so. We can offer you the opportunity to experience these adventures on a low pressure, non-intimidating environment.
Presented by Wild Card Outdoor Adventures
Backpacking for Beginners We will discuss reasons to start backpacking and how to get started.
Backpacking – Advanced Techniques We will discuss how to lighten your pack using the Ultralight method and various options for backpacking.
Patterning Shotguns for Turkey Season Shotguns pattern shotgun shells differently, therefore patterning a shotgun to know how well it patterns is crucial for success in the field. There are a lot of great turkey loads out there now, patterning a shotgun with your intended load gives the hunter confidence when hunting turkeys…..at any given distance you shoot at. Presented by Kevin with Jay's Sporting Goods