Part of our DNA as a church is to honor God by building healthy relationships around the Word of God. In Acts 2 we see the church devoting themselves to the apostle's teaching,
eating, and praying together.
We want to be people who are immersed in the Scriptures, people who are invested in each other, and people who commune with God together.
This is why we have LIFE groups!
Joining a LIFE group allows you to be encouraged by community during the highs and lows of life in a broken world. Blessing and encouragement flow from the church when we get serious about delighting in the Word and loving each other. The result of our joy in God is that He gets the glory!
A LIFE group honors God, encourages your heart, and edifies the church. Join one today!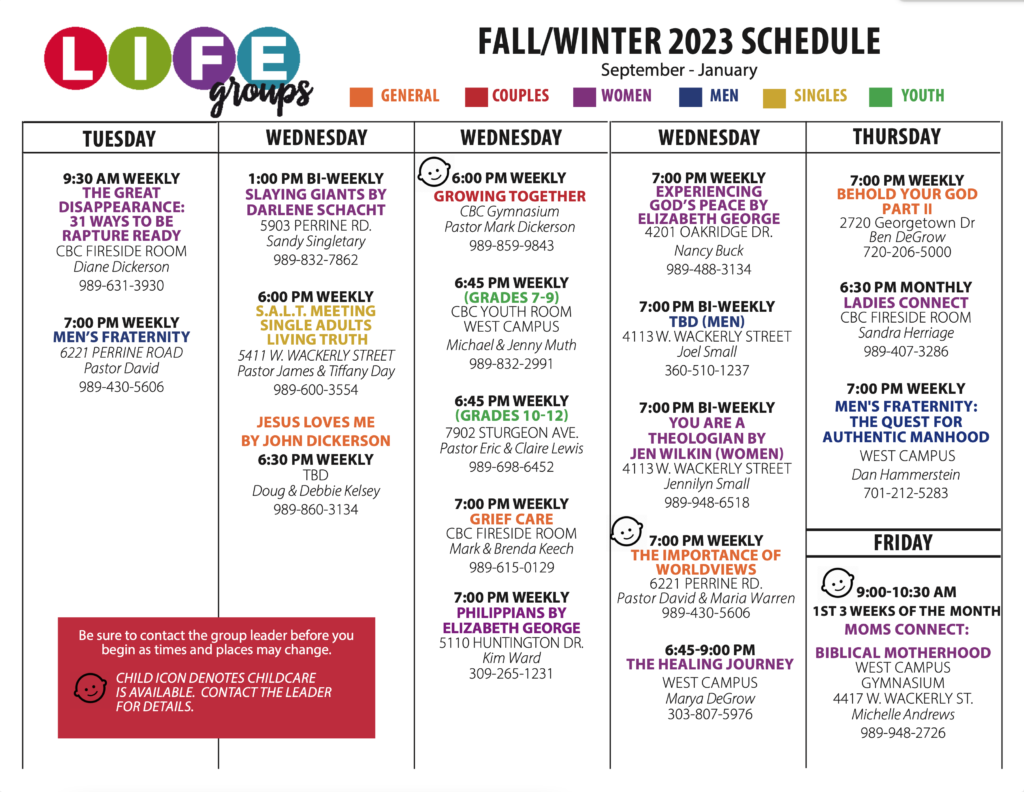 Why should I join a

LIFE

Group @ CBC?
The answer to this question is simple. It's biblical. God intended for you to do life with others. And it's part of our DNA as a church: to honor God, build healthy relationships and meet needs!
In Acts chapter 2, we see "42 they devoted themselves to the apostles' teaching and to fellowship, to the breaking of bread and to prayer. 43 Everyone was filled with awe at the many wonders and signs performed by the apostles. 44 All the believers were together and had everything in common. 45 They sold property and possessions to give to anyone who had need. 46 Every day they continued to meet together in the temple courts. They broke bread in their homes and ate together with glad and sincere hearts,47 praising God and enjoying the favor of all the people. And the Lord added to their number daily those who were being saved."
It honors God.
Being immersed in a LIFE Group takes you from just being an attender on Sunday mornings to a deeply, devoted follower of Christ. Surrounding yourself with people and studying the Word together will grow your personal relationship with Christ and strengthen your faith. In Acts 2, verse 42, we read "they devoted themselves to the apostles' teaching…" To be devoted means to love, be loyal to or enthusiastic about a person, activity or cause. It means these people were faithful, committed and constantly seeking the teaching of the Lord. And their fellowship together and relationships with each other deepened as a result.
It builds healthy relationships.
Being a part of a Life Group further connects people to the Church. The enemy wants you to be alone and disconnected from God's people. God designed the church to be a place where you can encourage others and be encouraged. We are all called to serve others and meet needs as God enables us. What better place than a LIFE group!
You'll be blessed!
When you are joined with a group of people who are moving through the same phase of life as you, doing life is easier! The trials we walk through are more bearable and the joyous moments are worth far more celebration. In a LIFE Group, you will find encouragement when you need to be spurred on. You will find support when you are struggling. You will find love when you are hurting. You will find hope when you are lost. You will find joy when you are celebrating. And you will find Jesus when you are seeking Him together. Our hope is you would fall more in love with Jesus when you invest in a Life Group. So, sign up today. It's a great time to start.