DISCOVERY CLASSES
Sunday
|
6 pm
|
Calvary Baptist Church
September 16 – December 9
You can raise successful children even in this fallen world!
In this day and age, children face a far more defective world than the children of previous decades. Everyday they are bombarded with the pressures and influences of drugs, sex, and violence. Often, parents feel helpless when the corrupt principles of this defective world seem to contradict every godly principle they try to instill in their children. But the truth is, God has a plan for effectively raising your children and you can learn it.
With penetrating truth and sincere honesty, Chip Ingram shares the life lessons from his personal experience of raising four children. He describes his failures and the challenges of teenage rebellion. And he teaches the principles for successful parenting as revealed through God's Word.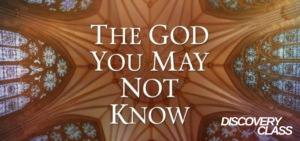 According to Philippians 3:10, Paul's deepest aspiration was to know God.
He summarized his life's purpose in one phrase: "That I may know Him."
We ask: "Why, Paul don't you know Christ? Didn't you meet him on the Damascus road? Haven't you been serving Him for years?"
Yes, but it's one thing to meet someone and another to develop an intimate knowledge and an abiding friendship with him.
Is knowing God your determined purpose and priority?
Because our personalities inevitably conform to our gods. We have witnessed this down through history. When we worship inferior versions of God – money, status, security, power, pleasure, you name it – we become like our idols.
If your god is money, you'll become materialistic. I
f your god is sex, you'll become increasingly sensual.
If your god is yourself, you'll become more self-focused.
But if your God is the almighty Creator of Scripture you've got a lifetime of joy ahead of you.
So it is no exaggeration to say that the study of God is the supreme study of a lifetime. It lifts our thoughts, steadies our nerves, purifies our motives, expands our confidence, and strengthens our influence. It's the greatest subject we could ever study, for God is the apex of all reality.
One of the reasons we don't love God as much as we should is because we don't know Him as well as we ought. Trying to comprehend the person of God is like trying to capture all the galaxies of the universe in a child's prism. Yet the Bible encourages us to try, for God seeks to be known.
In this teaching series, David Jeremiah wants to personally introduce you to the God you may not know—to His knowledge, holiness, all-pervasive presence, unlimited power, love, and the other qualities that make HIm who He is. Knowing our eternal God changes our daily lives—and He is well worth knowing, for He alone is worthy of all praise!