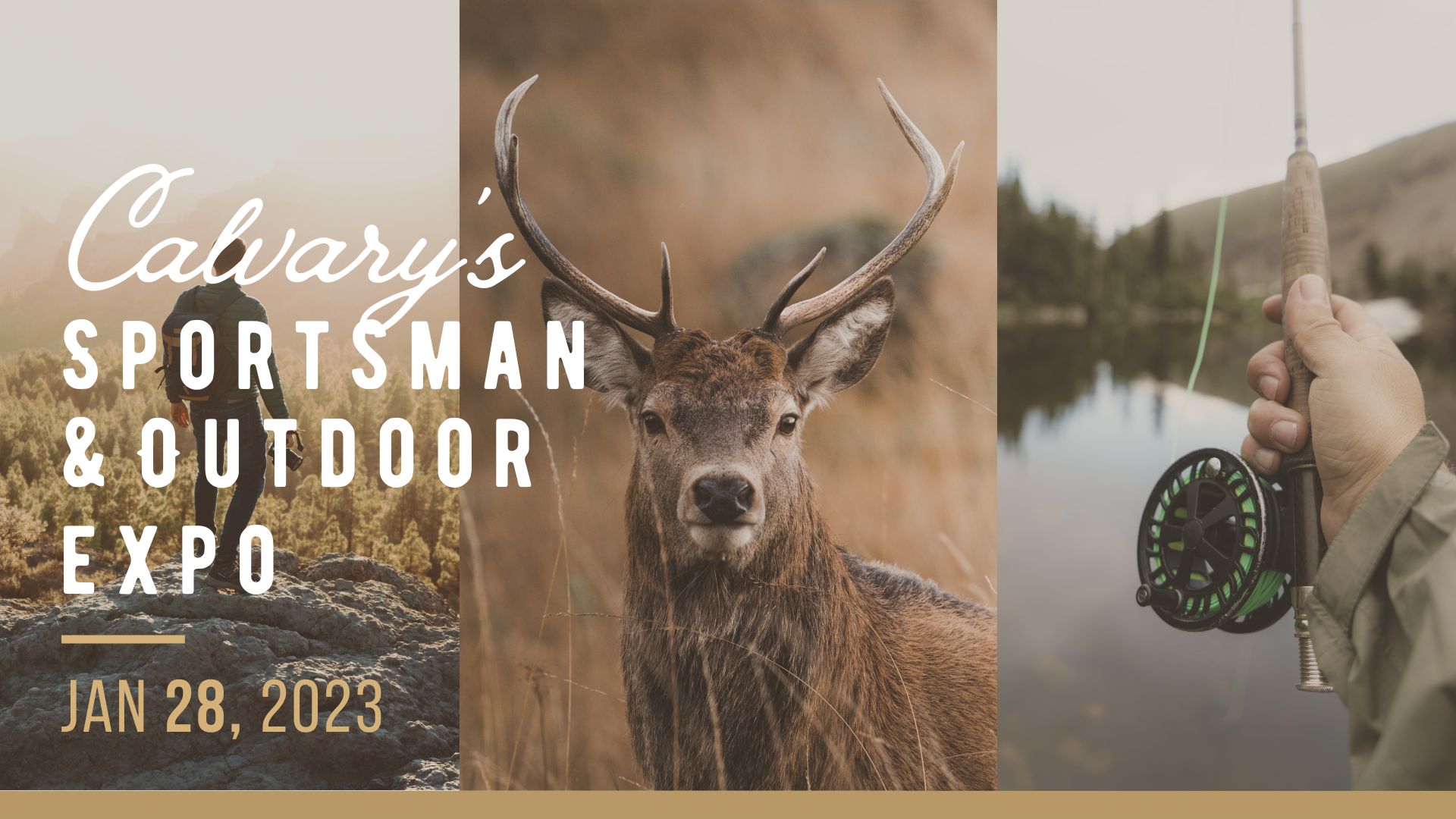 CALVARY'S SPORTSMAN & OUTDOOR EXPO
Formally known as the Wild Game Dinner & Outdoor Expo, Calvary's Sportsman & Outdoor Expo will be yet another exciting event to look forward to. Bring your friends and join us for a great day! We will have delicious food, great seminars, numerous vendors/exhibitors, and fantastic giveaway items! Dinner includes BBQ ribs and chicken, baked beans, coleslaw, macaroni and cheese, salad bar, soup, and dessert. Did we mention that we have great giveaway items? Your ticket price of $40.00 includes all of this.
Chris Keefer
Chris is a proven outdoor adventure media production veteran, entrepreneur and passionate outdoor enthusiast. Founder and CEO of BeAlive Inc, and actor – Code of the Wild, Dropped and Rival Wild.
Mike Avery
Mike Avery is a lifelong Michigan hunter and angler. He's covered the outdoors in this state for more than four decades. Avery's Outdoor Magazine TV show was on the air for more than twenty years and his syndicated radio show is now heard on more than 30 stations across the state.
Each year we offer a variety of seminars curated to engage, inform, and excite! Whether your interests include hunting, fishing, backpacking, or biking– we have a seminar for you. View the list below for a preview of some of the seminars we will offer this year!
It's Time to Talk Turkey with Tom
Presented by Tom with Tom's Custom Turkey Calls
We will discuss tactics, calling with a box call and slate call. We will talk about decoy placement, locating turkeys and what would Tom have done in a situation during your hunt. Very open dialogue and just a fun seminar with some great hunting tactics that you can apply during your spring turkey hunt.
Home Defense & Personal Security
Presented by Jason Bennett of Applied Training Solutions LLC
This seminar gives an overview of successful security practices. This will give you an understanding of situational awareness and the importance of building mental exercises prior to a defensive engagement either in public or in your own home.
Dispelling Myths about White-tailed Deer
Presented by John Furnier
Covering topics from genetics, buck:doe ratios, APRs, and quality deer management.
Q&A with our Conservation Officers
Presented by our local Conservation Officers
Join us for an informational presentation with our Conservation Officers. They will be here to answer your questions on fish and game. Bring your questions and join us for a very informative seminar.
Predator Calling 101
Presented by Dave with D.L. Calls
How do I get started, what equipment is needed, scouting, set up for calling, how to call and safety. Bring your questions, we are here to help.
Backpacking for Beginners
Presented by Al Backus
We will discuss reasons to start backpacking and how to get started.
Backpacking – Advanced Techniques
Presented by Al Backus
We will discuss how to lighten your pack using the Ultralight method and various options for backpacking.
Cooking & Preserving Your Game Without a Freezer //

Care & Seasoning of Your Cast Iron



Presented by JoAnne Clagg
We will discuss the ABCs of preserving your game without a freezer. Also, we will talk about the care and seasoning of cast iron pans for home or for camping. There will be equipment on display for you to view. Bring your questions!
Properly Cleaning and Processing your Animal
Presented by Gary Giddings of Mobile Meat Livestock &
Wild Game Processing
Reviewing the proper method of gutting your animal. We will discuss tips to get your animal ready for processing.This will include gutting, washing out the body, skinning, sectioning, etc. Bring your questions, we are here to help.
Applied Training Solutions
Buck Knives Collectors Club
Central Michigan Mountain Bike Association
Hooch Henry's All Purpose Seasoning
John Wesley ChainSaw Carver
Mobile Meat Livestock & Wild Game Processing
Pop-Pop's Gourmet Popcorn
Tom's Custom Turkey Calls
HAVE QUESTIONS?
Email sportsman@cbcmidland.org or call the church office at 989.832.2991